Art Beast Staff
Meet the dedicated employees who make Art Beast so much fun
Co-Assistant Director
Art Beast Coach
Teacher
Camp Teacher
Andrew has been an Art Beast coach and teacher since 2012 and is now one of two Co-Assistant Directors. He studied Fine Arts, graduating from CSUS with a minor in Apparel Marketing and Design. Andrew has done nearly everything at Art Beast from maintaining the space to managing the piles of paperwork at the front desk, and teaching camps and classes. Andrew's gentle spirit, constant smile and love of all things super-hero has made him a favorite among staff and families alike at Art Beast.
Co-Assistant Director
Teacher Coordinator & Mentor
Story & Art Teacher (on & offsite)
Outreach Coordinator/Program Planning
Process Art Trainer/Consultant
Club Beast Teacher/Creator
Leslie is a mother, artist and children's librarian with a passion for bringing stories to life through art and encouraging families to get messy! Leslie has a MLIS degree and over 15 years of experience working with children and families and has been a lifelong lover of the arts who has dabbled in many mediums. Leslie has taught classes at Art Beast since 2012 and coordinates our classes and outreach activities as well as running Club Beast and providing process art training to educators. Leslie loves most all art forms but particularly photography and needle felting. She loves to spend time walking around Midtown with her family, reading and eating great food!
Co-Assistant Director
Art Beast Coach
Music Teacher
Camp Assistant
Volunteer Coordinator
Eva started working at Art Beast in 2018 and is a student at Sacramento State. She is studying percussion performance and wishes to continue her education by applying for the credential program after her graduation.
Art Beast Coach
Birthday Party Host
Workshop Teacher
Assistant Teacher
Camp Teacher
Library Gigs
Erika has been an Art Beast coach since the spring of 2015. Her positive approach and empathetic personality adds a great vibe to our environment! She is currently studying at Sacramento City College to pursue the nursing field.
Art Beast Coach
Library Gigs
Workshop Teacher
Camp Assistant
Social Media Coordinator
Editor
Courtney began at Art Beast in the Spring of 2018. She is also a Reiki Practitioner here in Sacramento. Courtney loves wearing Birkenstocks with socks, traveling, hiking, reading, crocheting, knitting, and eating. Her cat and dog help her daily in achieving her dream of becoming a Hobbit.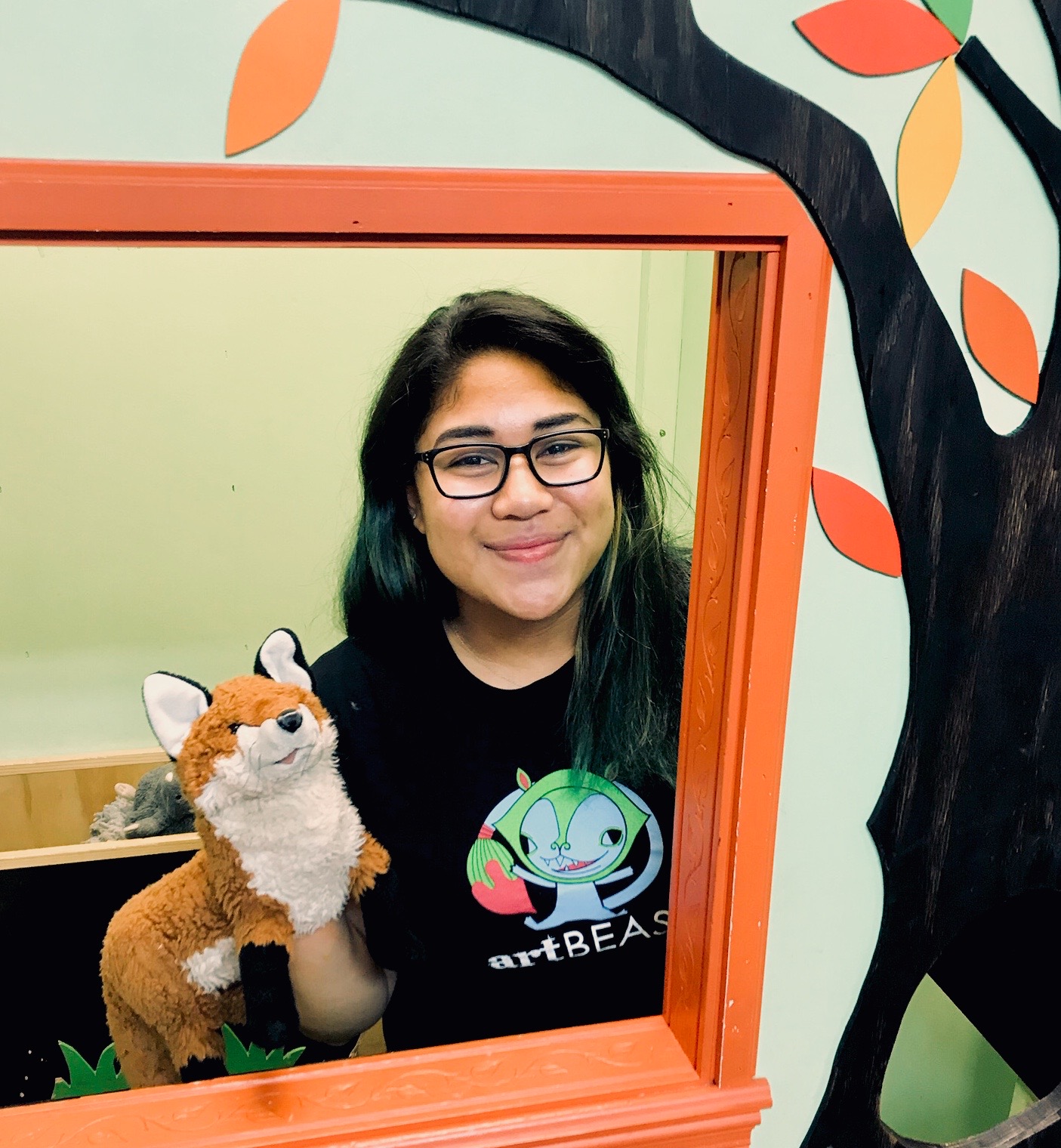 Art Beast Coach
Library Gigs
Workshop Teacher
Camp Assistant
Taryn is a student at Sac state studying to become an accountant. She enjoys music-both listening to and playing the flute. Taryn started working at Art Beast in the Spring of 2018 and you can usually find her getting the studio tidy or putting on a puppet show in the drama den.
Art Beast Coach
Music Teacher
Library Gigs
Carlos is our newest teacher! He is very passionate about music and rhythm and has been playing drum set with bands and on his own for 8 years. Carlos believes that drums require focus, while also giving space to have fun and let loose. He is excited to start teaching our little beasties the fundamentals of percussion!
Art Beast Coach
Music Teacher
Ismael is a student at Sacramento State University where he studies Percussion and Music Education. After completing his degree, he plans to pursue a career as a music therapist specifically behavior therapy. Ismale has taught middle school and high school drumlines throughout the Modesto area. He started at Art Beast in December of 2018 and is excited to be a part of such an amazing co-operative that not only takes care of their patrons, but the community as a whole.
Art Beast Coach
Library Gigs
Art Beast Blog Contributor
Camp Teacher
Jamie is a Wildlife and Forestry Conservation student who is a lover of the outdoors and the natural world. Since 2013 she has been working with children in art integrated education. She has experience running Child Care programs as well as teaching art. She enjoys spending time travelling, going on road trips, hiking, camping, playing guitar, cooking, barbequing in the backyard, and painting with mixed media. You can find her sipping a cup of coffee, walking her puppy Fang by the river, or sunbathing on a warm day. She plans to buy some land, build a home and live a sustainable, quiet life, surrounded by trees, mountains and water.
Art Beast Coach
Teacher
Resident Artist
Phil grew up here Sacramento. He fell in love with art when his father introduced him to painting at five and to the joy of plein air painting at seven years old. He went on to study at the California College of the Arts. After being all over the world, Mr. Philip recently landed back in Sacramento where he continues following his heart - art.
Deborah is a lover of all things relating to the art world. She graduated from BYU-I with a BFA in Ceramics and has only continued creating since then. Clay is her favorite medium, but she also enjoys watercolor, cooking, and gardening. After she works at ArtBeast she goes home and plays with her two dogs. The mountains are her happy place. She loves adventure and travel and hopes to save up enough for a trip to Ireland next year. She believes that everyone has a creative spirit, but that it comes out in different ways. Teaching is her favorite because then everyone gets a chance to explore new art forms.
Janae Kelly is a recent UC Santa Barbara graduate who majored in Psychology and who wants to go into social work.