Tonya has taught at Art Beast for over 4 years and teaches private art classes at her home studio.
Tonya is an artist and mother who truly enjoys inspiring children of all ages to express themselves through the creation of art. Tonya is a Sacramento State graduate with a degree in Art Education. She has loved making art with a variety of materials as well as sewing since she was a child. For the past decade, her creative focus has been mosaics, dimensional art, designing jewelry and knitting. She has an Etsy shop (Shadylane25) where she sells her hand made jewelry and knit accessories. Tonya brings loads of teaching experience (she teaches private art classes for older children at her home studio, Shady Lane Art School.) to Art Beast as well as being a strong role model and mentor to children.
Carlos has been involved with kids for over 5 years, teaching art in schools and drums on the side. Carlos has been playing drums for over 10 years after wanting to be a part of a band and feeling comfortable behind a drum set. Carlos believes that the rhythmic beat of the drums connect us to our heart, and is a great way to release some energy.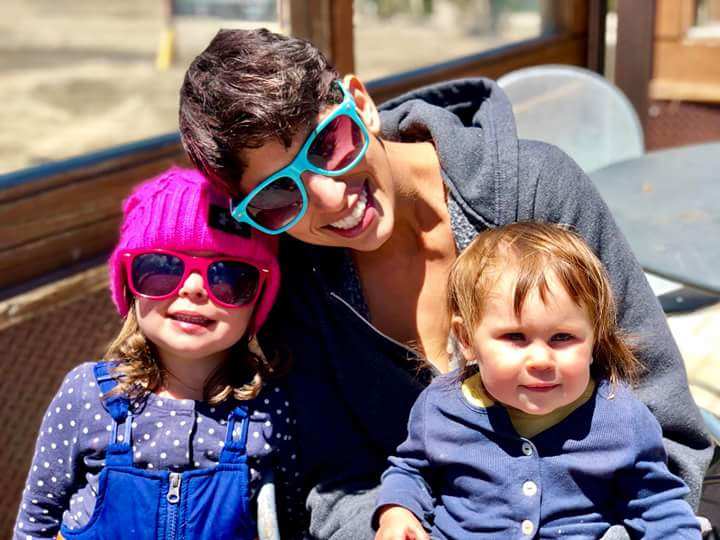 Michelle is teaching a fun and engaging yoga class on Thursday mornings for all ages.
Michelle Kizner has worked with children of all ages since she was a teenager. She has been an educator in extracurricular science programs, a high school biology, and homeschool support teacher. She also runs outdoor education programs for children. Michelle completed yoga teacher training in 2014 and has taught yin, vinyasa, and hatha yoga for adults as well as family and children's yoga for many ages. Michelle loves to garden, cook, and, get outside. She is an animated storyteller and loves singing songs and dancing.
Nancy will be a guest teacher once a month for Teeny Tuesdays. On the first Tuesday of each month, Nancy will share stories, a simple art project and a selection of Usborne books for families to peruse. Any book purchases made at Art Beast will help Tubman House get more books for the families there.
Nancy Niederberger is a mother of two and passionate advocate for literacy. She loves reading, sewing, drawing, and spending time with her family. Nancy is an independent consultant for with @usborne_books and hosts Art Beast's book fairs (@nancyknowsbooks/@UBAMNancy)
Be sure to visit Ms Nancy anytime she brings a book fair to Art Beast. As always, when you purchase any books from Nancy either at the studio or online, proceeds benefit Tubman House & Art Beast Development Center. Join us each month (we will have a break in January) to flip through a selection of books at Art Beast or go online to https://h5434.myubam.com and select Art Beast at check out!
Ismael is a student at Sacramento State University where he studies Percussion and Music Education. After completing his degree, he plans to pursue a career as a music therapist specifically behavior therapy. Ismael has taught middle school and high school drum lines throughout the Modesto area. He started at Art Beast in December of 2018 and is excited to be a part of such an amazing co-operative that not only takes care of their patrons, but the community as a whole.
Jill will be teaching hula hoop this Spring!
When she's not hooping at Art Beast, Ms. Jill teaches Pre-K at Arista Preschool. She's also a hoop performer and part time mermaid! She began her hoop journey over 7 years ago in Santa Cruz and began teaching 5 years ago - her motto being "ANYONE can have fun with a hula hoop!" Ms. Jill runs a small business called Traveling Mermaid Entertainment where she mermaids, hoops, and face paints for parties, events, and festivals. In her free time she loves to perform, mermaid, and see live music. Make sure to follow her on Instagram: @TravelingMermaidEnt
Mr. Philip grew up here Sacramento. He fell in love with art when his father introduced him to painting at five and to the joy of plein air painting at seven years old. He went on to study at the California College of the Arts. After being all over the world, Mr. Philip recently landed back in Sacramento where he continues following his heart - art.
Miss Emma has been an active musician in Sacramento since 2008. Emma studied jazz and popular music at Berklee College of Music and Cornish College of the arts. A Co-Founder of Girls Rock Sacramento, and a UC Davis graduate, Emma is passionate about empowering the youngest humans through musical education. This year she began as the ECE music teacher at Shalom School and has since found an absolute calling to spread joy through music. Miss Emma teaches using open ended curriculum which is child and process centered. She believes that music allows people to be exactly who they are.
You?
We provide weekly 20-30 minute classes with a focus on process-art, movement, and music. Teachers need a patient and inviting personality with passion and experience for what they'd like to teach to our Art Beasties. We would love to add more movement and dance into our curriculum. Here are some ideas: Yoga, Ballet, Hip/Hop, Improvisational Movement, or more! Please contact Leslie at artbeaststudio@gmail.com
What You'll Find in Art Beast's Teachers
Experience working alongside children 0 to 7

A patient, joyful spirit

Ability to respond to each child's needs in creating a welcoming space

A warm, friendly hello

Love for building an inclusive community of families

Crazy for the arts

Dazzled by the possibilities present in each child

Values all individuals and all types of family structures, and shares stories and songs that reflect families and children of many cultures and family types.

Promotes gender equity by ensuring stories, songs, and other artistic expressions portray both girls and boys equally as protagonists, and by portraying both girls and boys as brave, adventurous, heroic, gentle, loving, mischievous, and spirited.